Our new and improved Evoz Baby App: The Evoz Smart Baby Monitor, now even smarter!
Thu, 20 Apr 17
The Evoz team is proud to announce the birth of its new Evoz Baby app! After an extended gestation period, Evoz Baby 2.0 (0 lbs, 0 oz, many thousands of lines of code), was officially released today, April 20, 2017.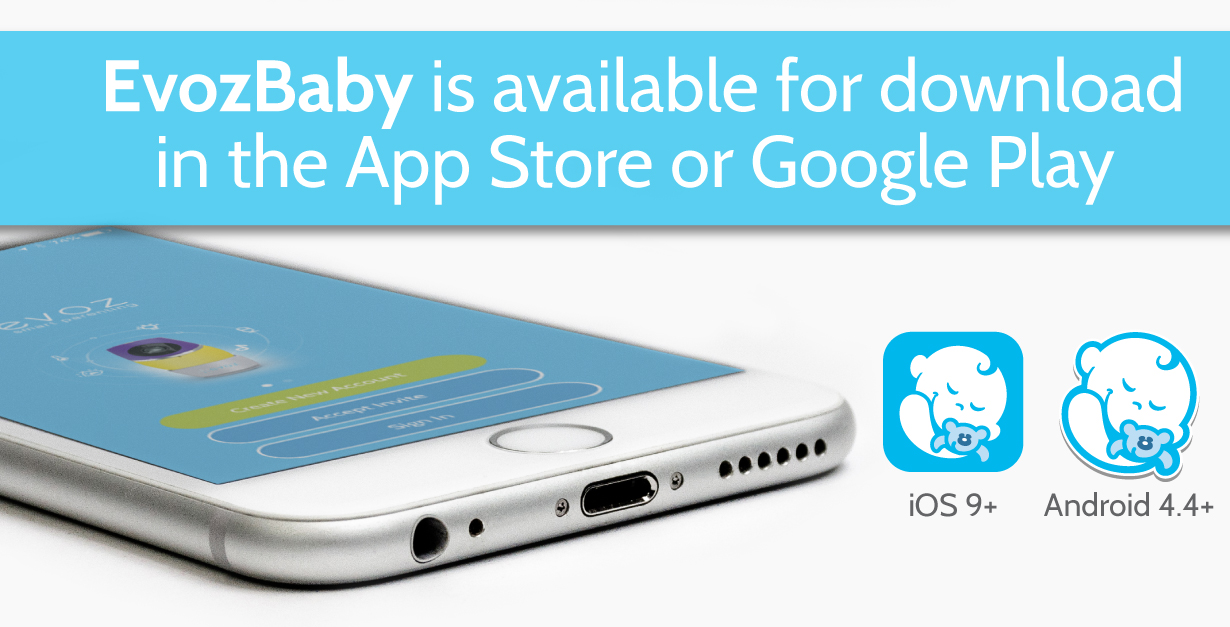 Same Great Features, Beautiful New Interface
The new app will work immediately and seamlessly with your Evoz Smart Baby Monitor(s). The same great features we've always had now come in a more beautiful, more intuitive new package.
We've adopted a new tab layout so you can quickly and easily navigate among the app's most important functions:

 Monitor
In the Monitor tab, you'll see a thumbnail view of each connected monitor. Tap the icons associated with each monitor to control its lullabies, light, speaker, and settings. To start audio or video streaming of a single monitor, tap the relevant icon on the monitor's thumbnail.
 Baby Data
Here you can record and view important data related to your baby's schedule and growth: crying, sleep, nursing, bottle, diapers, height & weight, and temperature. Or tap the Schedule overview button to see the whole schedule at once. Switch between kids by tapping next to the child's name at the top of the screen.
 Notices
Here you'll find any notifications sent by the monitor. Tap My Alerts to manage your cry, temperature, or disconnection alerts.
 More
Under More, you'll find all the things you need to make your Evoz Smart Baby Monitor work best for your family – your account settings, monitors, children, alerts, and invitations. Here you'll also find up-to-date sleep advice from Kim West LCSW-C, The Sleep Lady® (coming soon!), daily room temperature recordings, and…well, as it says, more! Tip: if you ever have trouble with the app or monitor, use the Email Support option here to send us an email that includes the app's log files, so we can help you figure out what went wrong.
What Else Has Changed in the Evoz Baby app?
In addition to the total makeover, we've incorporated lots of bug fixes and incremental improvements to make our Evoz Smart Baby Monitor even smarter. Here are some of the highlights:
In response to customer requests, the monitor thumbnail now shows the entire field of view of the monitor (updated every 30 seconds), instead of a zoomed-in picture.

We've added even better support for families with multiples! You can now assign a monitor to a specific child, add multiple children's profiles, and hear the audio stream from multiple cameras at once.

We've made it even easier for you to share the monitor with friends, relatives, and caregivers. You can define the functions they can use and limit the times and days they have access.

It's also easier to tell when someone else is listening in.
The Evoz Baby app is available on the App Store for Mac iOS version 9 and higher, and on the Play Store for Android version 4.4 and higher. We hope you love it as much as we do! Stay tuned here for more posts on how to make the most of your Evoz Smart Baby Monitor with the Evoz Baby app.
As always, if you have any questions or problems (or compliments! we love compliments!) feel free to contact us directly at support@evoz.com.
Best Wishes,
The Evoz Team, excited new parents
Disclosure: This blog post contains contextual affiliate links. Evo Inc. may get commissions for purchases made through links in this post.