Professional Baby Sleep Advice at Your Fingertips – Right in the Evoz App
Tue, 12 Sep 17
Here at Evoz, our mission is to help families connect and care for each other. We believe our Evoz WiFi Baby Monitor is the best choice to help you stay connected to your little one, whether you're two rooms away or across the country. But bleary-eyed moms and dads have bigger problems than finding a good baby monitor! In particular, parents have lots of questions around sleep. Should I swaddle? When should my baby sleep through the night? What about naps or sleep schedules? She was sleeping through the night, and now she isn't…what now? That's why we've partnered with Kim West LCSW-C, The Sleep Lady®, to put great sleep advice at your fingertips, right in the Evoz Baby app.
Who is
The Sleep Lady
?
Kim West, better known as The Sleep Lady®, is a Licensed Clinical Social Worker who has been a practicing child and family therapist for over 20 years. Kim is the mother of two beautiful girls. She's also the creator of a gentle, proven method to help your baby learn to fall asleep and stay asleep. Her unique sleep method, "the Sleep Lady Shuffle," shows results in less than two weeks – with no crying it out. Her book, The Sleep Lady's Good Night, Sleep Tight, has sold over 100,000 copies. Sleep advice from Kim and her team of trained Gentle Sleep Coaches® in 19 countries has helped thousands of families find sleep. And she's on a mission to help one million families find sleep by 2020! But you don't need to take our word for it – here's Kim introducing herself and her work:
If you're interested in learning more about Kim's Gentle Sleep Coaches® and the packages and services she has available, you can check out her Gentle Sleep and Parenting Center by clicking here.
Where do I find sleep advice from The Sleep Lady?
In the Evoz Baby app, tap the app menu ("More" in iOS), then Sleep Lady. Here you can choose from more than 100 articles and videos, conveniently organized according to your child's age. Swaddling is here, and so are safety tips and sleep regression. There's lots of great advice on how to establish workable and healthy routines for babies through kindergarteners.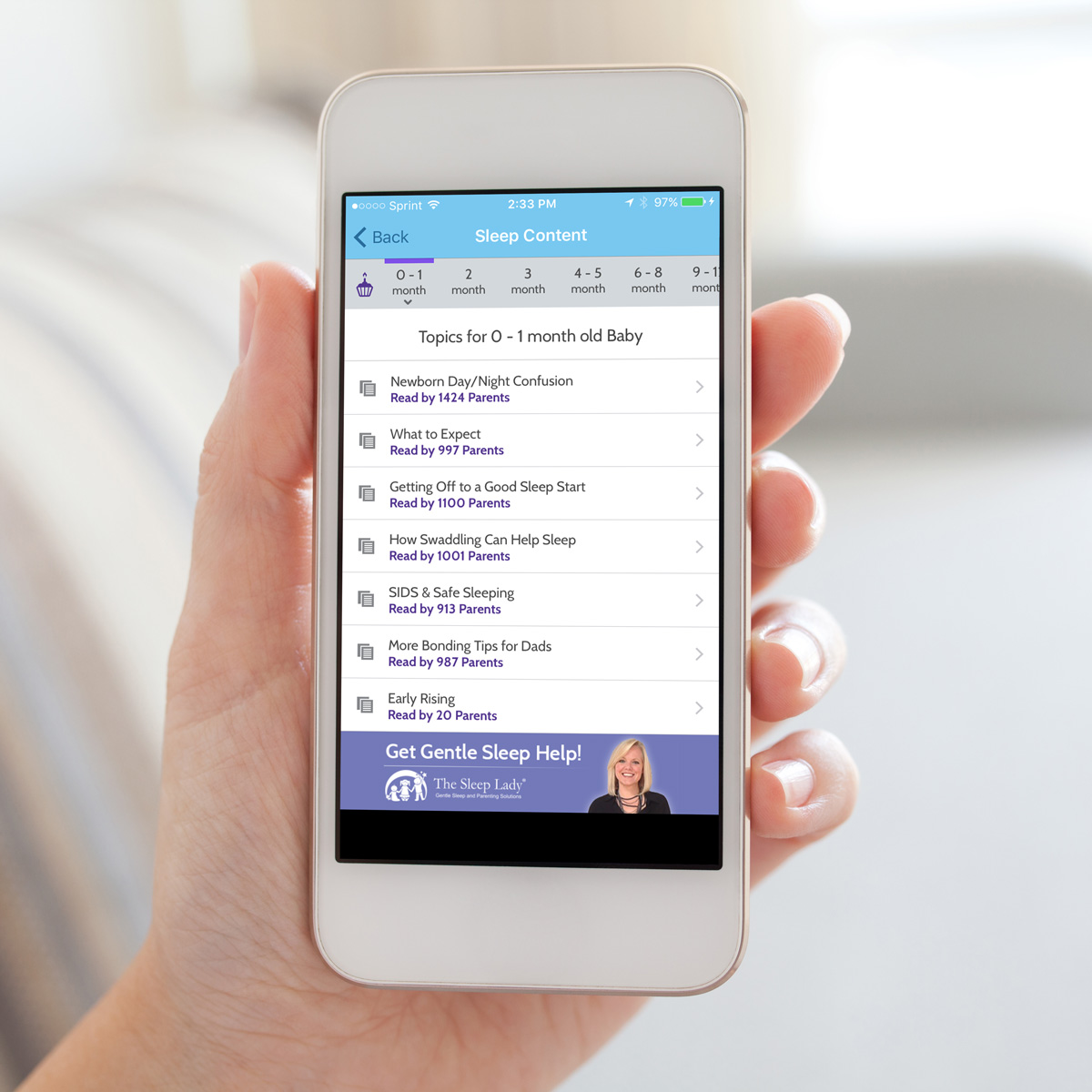 For even more great sleep advice from Kim, or to schedule a personal consultation with one of her Gentle Sleep Coaches®, click the link at the bottom of the Sleep Content screen or visit Kim's website.
Sleep tight,
Evoz
Disclosure: This blog post contains contextual affiliate links. Evo Inc. may get commissions for purchases made through links in this post.